Election 2014
The following is re-posted from the Online Townhall Meeting hosted by Greg Raths, conservative Republican candidate to represent California's 45th Congressional District.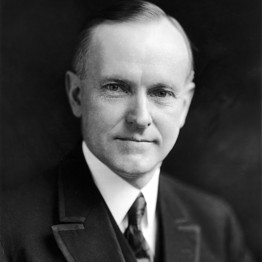 It's impossible to single out one President as my favorite. Most would assume that Ronald Reagan tops my list and I suppose he might but he couldn't bump Washington and Lincoln from those lofty heights. One other name belongs there and it may surprise you: Calvin Coolidge.

President Coolidge faced the same daunting problems that President Obama found waiting on his desk in the Oval Office. The hard numbers weren't as large in Coolidge's time, but they were equally as disastrous when you remember that every dollar in his age was worth many more in 2014. The difference between him and Obama is that Coolidge took care of the nation's business.

---
Visit Greg Raths for Congress to learn more and support this candidate, a retired Colonel, USMC, combat fighter pilot, corporate executive, and community leader.
---
In summary, Coolidge's "actual record": he inherited a national debt of $28 billion and reduced it to less than $18 billion; he cut the top income tax rate to 25% while balancing the budget and producing surpluses each year; and unemployment was reduced from 5.7 million at the beginning of the decade to 1.8 million when he left office. The economy became popularly known as the "Coolidge prosperity."

Wouldn't you like to know how President Coolidge did it? I'm sure that President Obama wouldn't. He wouldn't want to attempt anything like the strategies that Coolidge employed. I believe that the difference between the two Presidents is quite simple: Coolidge trusted America and its citizens, Obama doesn't.

President Obama wants us to sit down, shut up, and let him do the "deciding". "But," I can almost hear you cry, "Wasn't President Bush know as the 'Great Decider'?" Yes, he was. The truth is that there is little difference between the two when it comes to trusting Americans. While it may be argued that Bush was a more honorable man, both he and Obama failed to allow citizens to take responsibility for themselves.

Ronald Reagan was the last President to truly love and respect Americans. He wanted to reduce government spending much like Coolidge, but the Democrats and liberally-inclined Republicans dominated Congress, and they never gave him the chance. However, he did bully them into following Coolidge's example in reducing taxes. That alone helped inspire the longest consecutive period of economic growth in the nation's history. We can only imagine what might have happened had he succeeded in reducing government as well.

Like Reagan, I love America and I trust Americans. If the elections this November succeed in flushing the progressives from Congress and replacing them with honest conservatives, we will begin setting the stage for a full recovery. The final act of that performance must wait until 2016 when we can at last have a real American President. I trust that this will come to pass because, by now, all but the most strident ideologues recognize that progressivism is a failure.

---