Cuba
A TRAIL OF broken promises stretches more than fifty years from the time that Fidel Castro picked up the reins of power in Cuba. He envisioned the island becoming an industrial giant rivaling America. He published cookbooks to help Cuban housewives cope with the glut of locally grown food that he promised would be the harvest of his agricultural initiatives. He warned his citizens to temper their consumption of beef or they might suffer gout when beef became cheaply available under his agrarian reforms. He promised that he would force the imperialists in America to pay their debts and that Cuba would become the wealthiest of nations. None of this came to pass. Yet, thousands still assemble to cheer his latest vision for their nation. These long suffering Cubans are immutable proof that, as Alexander Pope said, "Hope springs eternal..."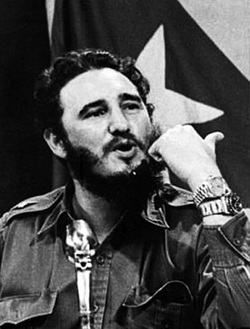 Unfortunately, so long as Castro lives, there is no hope. It is now safe to say that he is the seed of a delusion that his people nurture daily. Those who failed to embrace it have left for more prosperous shores, carrying with them an unshakeable distaste for Communism. It is interesting that these expatriates have not been able to share that vision with their fellow Hispanic-Americans. Whereas the Cuban-American community is fiercely conservative, casting their lot with political forces that eschew collectivism, most other Hispanic-Americans seek entitlements by supporting progressive politicians. One must wonder if their attitudes would change if they were exposed to the harsh realities of life in a society dominated by an economy driven by central planning such as exists in Castro's Cuba.

Will life soften in Cuba once Castro is gone? It is doubtful. A bureaucracy has grown to perpetuate his vision and style. Dictators may be overthrown and pedagogues may die, but bureaucracies are forever, and they're virtually impossible to redirect. Neither Fidel nor Raul appear to direct the day-to-day operations of the secret police and yet the human rights violations perpetrated by this force continues relentlessly.

One might think that I am too harsh in my judgments of Fidel and the government he has spawned. Possibly. However, people who empower themselves to micro-manage the lives of other people must be prepared for such criticism. The simple fact is that centralized government exaggerates the effects of bad decision making. Errors in judgment are felt at all levels of a communal society such as the one Castro inspired in Cuba. However, societies in which people are trusted to make their own decisions rarely feel the adverse effects of bad decisions by individuals.

The Cuban people – at least those who have allowed Castro and his government to remain in power – also must share the blame for their plight. Ultimately, as we declared our independence, our nation proved that governments exist at the consent of the governed, and that people have the right to abolish them and form new ones, if they are destructive to the people's life, liberty, and pursuit of happiness. Fortunately for those who escaped tyranny in Cuba and unfortunately for Cuba that a haven was so near to its shores, those who might have brought down Fidel are now basking in liberty on these shores. As their generation dies, the hope that they might return fades, and their children, raised as Americans, evince little inclination to fulfill their parent's dreams.

Ultimately, beyond Castro's broken promises to his people, the Cubans suffer most from failing to take the reins of their own destiny. How many times must he break his promises before they wake up to this fact?