Good Read
I'm not lucky all of the time. You could say that I'm lucky to just break even on every chance I've ever taken. (If you met my first and second wives you'd understand just how true that statement is) However, I did get lucky, really lucky just once while writing my first novel...
---
When I wrote my first novel, Rebels on the Mountain, I crafted a hero to fit the role of a soldier/spy observing Fidel Castro and his revolution in Cuba. It seemed obvious that my man would have been too young to have fought in World War II and thus learned his craft in the Korean War. As the story evolved, it became essential that he have friends in France and be fluent in their language (you'll have to read the story to understand why). Thus, I had him fight in a desperate battle alongside French soldiers. A quick check of the history showed me that there were French forces among the UN command there and thus I felt I had factual backing.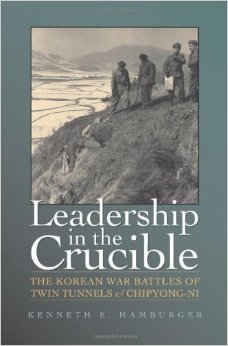 My lack of in depth research came back to bite me when I decided to write a prequel to Rebels, The Accidental Spy, a story set in the Korean War. Imagine my surprise when I discovered the amazing story of Lieutenant Colonel Ralph Monclar and his French Battalion, and the battle of Chipyong-ni. As luck would have it, I had accidentally placed my hero in the midst of one of the most significant battles of that war fighting alongside a unit that won a Presidential Unit Citation for gallantry in that action.

Leadership in the Crucible by Kenneth E. Hamburger is a study of the Korean War Battles of Twin Tunnels and Chipyong-ni with special emphasis on the two commanders, one American and one French, whose mutual friendship and respect as well as their personal leadership styles, led to the first UN victory of that war in a battle against vastly superior enemy forces, a battle that came to be known as the Gettysburg of Korea. Built on extensive personal interviews and a critical review of military records, Hamburger provides readers with an insightful study of the importance of the trust between leaders and followers.

This book is interesting from many levels but, to be honest, I focused primarily on the French Battalion and their colorful leader. Actually, Lieutenant Colonel Monclar was one of the highest ranking generals in the French army but assumed a nom de guerre and reduced himself to lieutenant colonel so that he could participate as a member of the American 23rd Regimental Combat Team (RCT) which was commanded by a colonel. At fifty-eight, Monclar might have been excused to remain comfortably in the rear, but chose instead to troop the line on foot to insure that his soldiers were properly positioned. He even insisted on leading his significantly younger men as they scrambled up ice and snow covered hillsides while under enemy fire. With detailed knowledge of their defenses and the terrain on which they chose to fight, he was better able to make decisions in the heat of battle.

The French soldiers themselves were equally interesting. Embarrassed by the failings of the French army during World War II and their setbacks in fighting insurgents in their colonies, these men were determined to regain some measure of glory for their nation. Sadly, they were rejected by many American regiments who didn't want the frogs fighting alongside them. However, Colonel Freeman, commanding the 23rd RCT and his men welcomed the French and the French repaid them for their trust.

I wish I could say I chose well in placing the hero of my novels among these men, but it was an accident, a very happy accident. Reading this novel was no accident either. It was recommended by other veterans who recognize a good war story when they see one.