Cuba
CNN
AND OTHERS are reporting that Cuba's Fidel Castro has proclaimed that Bin Laden's killing was an assassination, a simple act of murder in front of the man's own family. Yes, that seems to cover the story pretty accurately and Fidel is right.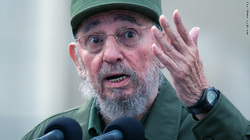 So? Bin Laden inspired, financed, led, and later praised the assassination of thousands of innocent men, women, and children. This is not idle speculation. He claimed "credit" on many occasions. It seems equitable to me that U.S. armed forces should exact justice in this manner. Just what is Castro's problem?

Actually, his problem is his hatred of the United States. It drives him. It inspires him. It is his raison d'être. How sad. It's a shame that he lost his way apparently because President Eisenhower snubbed him.
Fidel was not a communist in those days regardless of what he later claimed. He was a syndical-anarchist, and later embraced communism only to attract the sponsorship of the Soviet Union when the United States began sponsoring his opponents.

Fidel Castro inspired the revolution in Cuba to depose the dictator, Fulgencio Batista, and restore the nation's constitution, not to launch a communist state. Unfortunately, he lacked respect for the fundamental right and ability of the Cuban people to govern themselves and used his popularity to assume the role of dictator. His paternal instincts are similar to all who have subjugated a people while pretending to administer their lives for their own good. Yes, the road to hell is paved with good intentions.

Now, after all of these years, condemning all actions of the United States has become as automatic as the patellar reflex that occurs when the doctor strikes your knee with his little rubber hammer. His once quick mind is now simply a morass of hate-filled utterances.

How sad...