Cuba
The Miami New Times Blog brings us more proof that Fidel Castro has too much time on his hands now that he has retired from dictating to the people of Cuba. He proposes that Osama bin Laden was a CIA agent!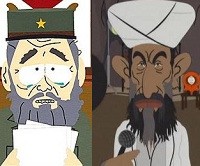 The blogger at the Miami New Times appears to think that the death of Bin Laden at the hands of U.S. Armed Forces precludes Castro's theory. However, I'm sure that he will continue to think of Osama as a CIA operative despite this event. After all, doesn't he believe us capable or evil enough to assassinate our own agent? Of course he does.

The greater question is, who really cares what Castro believes? Do the Cuban people even care anymore?