Election 2014
The following was written by me on behalf of a candidate for Congress who sadly failed in his bid to represent his party.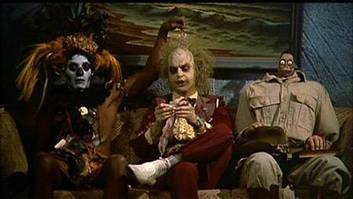 How well do you remember the movie Bettlejuice? After dying in an auto accident, Barbara and Adam return to their home and find a copy of the Handbook for the Recently Deceased on a table.

---
Barbara: [after Jane did not hear Adam call her] She didn't see you, right?

Adam: Uh-uh.

Barbara: [reading the handbook] In the book: "Rule Number Two: the living usually won't see the dead".

Adam: 'Won't' or 'can't'?

Barbara: It just says 'won't'. God, this book is so stupid. I can't understand anything in it.

[Adam takes the book and closes it]

Adam: Barb, honey... we're dead. I don't think we have very much to worry about anymore.
---
Sound familiar? The greatest complaint that we hear from patients in Canada and England is that they won't be seen. They wait for hours to be seen by a triage nurse, then months and years to be treated. Yes, the waiting room for the dead depicted in Beetlejuice is a very apt metaphor.

Don't tell me. I too have heard the President celebrating 7.1 million sign-ups. However, the Rand Corporation recently released its report that more than 6 million of those have yet to pay for it. In effect, those Obamacare subscribers left their policies in their virtual shopping carts and walked away from their computers. Now we learn that duplicates have been counted. What's next? Will the dead have been enrolled just as they've voted in some elections? Maybe my reference to Beetlejuice is more apt than originally intended.

This is why I'm not just focusing on ending Obamacare. I'm more concerned with crafting a real solution to America's healthcare issues. First, we need to undo the damage caused by the Affordable Care Act (ACA) which created the mess known as Obamacare.

Next, we have to clearly define what the problems actually were before the ACA was foisted upon us. No one can fix a problem when they haven't first identified and measured it.

Obviously, I can't propose any solution until we agree on the problem. However, it's safe to say that it won't have anything to do with the quality of medical care in America or with the competence of American healthcare providers. Those were among the best in the world.

I suspect that the main problem to be faced is in the cost of healthcare and paying for it. Those who agree with this assessment have no problem seeing the failure of Obamacare. They aren't dissuaded by the President's victory lap touting 7.1 million sign-ups. Not even the President nor his allies in Congress claimed that their goal was to achieve 7.1 million sign-ups. Their stated goal was to make healthcare more affordable, hence the name, Affordable Care Act. Yet, everyone has seen healthcare insurance premiums rise as much as fifty percent and future increases of almost double are promised in the coming months. By that measure, the ACA is an abysmal failure.