Cuba
THE GRANMA RAN AGROUND about 100 yards offshore. Castro and his Fidelistas had to wade ashore at a place known as Alegrío del Pio, about fifteen miles east of their intended destination. The few survivors reported that they waded through waist deep waters as though in slow motion. This would be consistent with a heavily laden cabin cruiser approaching a sloping beach. Their distress was most likely the result of short rations while living in cramped quarters, unable to move about for seven days.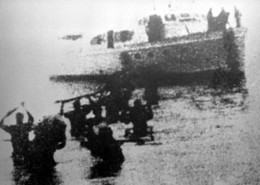 The Fidelistas appear as ghosts in this grainy photograph taken as they waded away from the stranded Granma (click to enlarge)
Studying that stretch of coastline, it appears that it is a mangrove swamp. This might explain why the Cuban army and air force had to wait a day or two to spring their ambush. The rebels weren't a good target until they wandered inland. It is doubtful that they found food and water in the swamp and must have made some bad decisions about keeping under cover when they left the mangroves. They came under fire as soon as they entered the edges of a nearby sugar plantation.

During the brief ambush, the rebel ranks were decimated. The three principal leaders, Fidel, his brother Raúl, and Camile Cienfuegos, remained unscathed. Che Guevara suffered several severe bullet wounds and had to be carried to safety. During the next few days, most of the survivors of the initial onslaught were hunted down and killed or captured. Only eleven of the band of 82 were able to escape into the Sierra Madres Mountains that dominate the Oriente Province at the eastern end of Cuba.

Every Cuban revolution began, and was mostly fought, in the Sierra Madres. Pico Turquino, the tallest of them, became the base camp for the Fidelistas. Pico Turquino is the mountain in my novel, Rebels on the Mountain.

Fidel lost the majority of his trained forces in that brief attack. Although not mentioned in any record that I could find, they must have been intended as trainers for volunteers that Fidel expected to recruit on the island.

One of Fidel's loyal lieutenants from the 26th of July Movement (MR 26-7), Celia Sanchez, had been recruiting in the Sierra Madres mountains in anticipation of his arrival. She had the pick of many outlaws and outcasts who populated the mountains and fought the hated Rural Guards of the Cuban army from the age when they had first been able to pick up a gun. Although they had valuable local knowledge and ample courage, they needed training to become an effective fighting force that could drive the dictator, Fulgencio Batista, and his henchmen from the island. That was the purpose of the trained Fidelistas who had arrived on the Granma. Now, there were just eleven of them remaining.