Vietnam
THINK ABOUT IT. How close would you like someone to get to you with a straight razor when they might be a secret insurgent?

Ever U.S. Army unit in a combat zone, even the REMF (Rear Echelon Mother F***rs), were issued a barber kit containing the bare essentials for maintaining a "bare" head. There were no electric clippers simply because electricity was rarely available in the "boonies." Hand clippers like those used to groom horses and small animals were used instead. We either gave ourselves haircuts or spent a few Piasters for the thrill of have "Charlie" give us a close shave.

Luckily, we had a lieutenant, Bobby Tillman, who had worked his way through college barbering, and a somewhat reliable source of electricity in our division base camp. He had his wife ship his kit to him and charged us 25¢ for a standard Army haircut; whitewalls on the sides and a fringe on top that created the illusion of a "flattop." Civilian-style haircuts were a bit more. Most of us went with the "bare" essentials, but one lieutenant kept the highly styled look of JKF. Indeed, he looked like he sprang from the same gene-pool.

When Bobby DEROS'd (returned state-side), we were left with a problem. Our solution was to check out the company barber kit and give ourselves our own haircut. Recognizing the peril of this adventure, we agreed (over numerous beers) that we would take to the chair in a round robin, each taking a turn as a barber. No one was allowed to give a haircut to the person from whom they had received theirs. The result was comical. Flat tops were tipped at a jaunty angle, like a Parisian beret, or the fringe failed to circumnavigate the head. No two sideburns were equal. Mohawks transected skulls at odd angles. Fortunately, no one lost any body parts though some were injured.

The second solution to follow shortly thereafter was to solicit a Vietnamese barber to set up shop in the officer's club. This worked well until the Tet Offensive of 1968 and no civilian personnel were allowed access to our base camp for several weeks. When he returned, we learned that our barber had lost his home in the fighting. An empty 5-gallon water bottle was placed near his chair and it was soon filled with loose piasters that financed the building of a new one.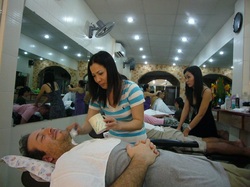 On rare occasions, I had the pleasure of slipping into Saigon and took those opportunities to get the full treatment; a facial and a massage as well as a shave and a haircut for the equivalent of $1.25 American. You spent about an hour in the chair and often had trouble walking when they were done.

Most Saigon barbers were women or, more specifically, girls in their late teens or early twenties, and very attractive. Many provided other "services" right there in the chair (or so I've been told).

I've missed the Saigon barbers since I left Vietnam. I had similar experiences in Okinawa and once in Hawaii. No mainland barber ever came close to providing "full services."