Sponsored by BallotCraft
Anyone who followed my blog postings for Elections 2012 and 2014 may easily imagine that I'm steeling myself for another disappointment in 2016. My powers of prognostication are probably no better than yours. However, I'm determined to have a little fun this time. I'm playing BallotCraft.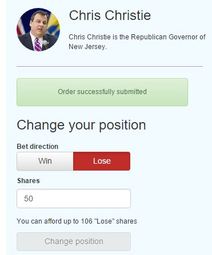 Playing BallotCraft is much like playing Fantasy Football. It doesn't matter if your favorite team wins or not. You win or lose based on the performance of the individual candidates that you select from every party and ideology. Your challenge is to pick the best performers from the field.

Don't put all your eggs in one basket. Points won with good choices will offset those lost on poor ones. Your overall score is based on the average of all the candidates you've selected.

Now, rather than annoying friends and family with your political views this campaign season, why not vent your spleen on your fellow players. There are discussion threads and a Chat Room where you can make new friends and political enemies.

BallotCraft is free to play and easy, too. Pop ups guide you through the process of joining a team and making your first trades. Your first choice is to rank yourself as a pro or an amateur player. Although I have been disappointed repeatedly in elections, I still consider myself a "pro", and I'm playing with the big guns of political punditry.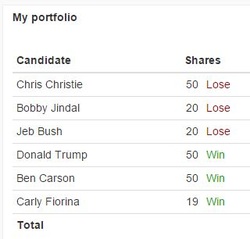 Don't assume that my first picks reflect whom I favor in the upcoming elections. To be honest, I don't yet have a favorite. However, I won't be betting on my favorite any more than I would bet on a horse based on whether it was white, black, chestnut, or piebald, nor on whether it was a filly or a colt. I'll be trying to pick the winners and losers. Yes, in BallotCraft you can bet on losers as well as winners.

As I began playing BallotCraft I thought of one of my favorite Peter Seller films, The Mouse That Roared. The Mouse is Fenwick, a tiny fictional principality lost somewhere between the great nation states of Europe, that declares war on the United States. Its Prime Minister hopes to surrender quickly and enjoy the largess that America traditionally bestows on the nations it defeats. When their declaration of war is lost in the mail room at the US State Department, Fenwick dispatches its army of twenty three pike men and archers to invade New York and surrender. The plan goes awry when the brave band stumbles upon and steals a new weapon, a planet-destroying bomb, and returns with it to Fenwick.

In one of my favorite scenes, foreign ministers and secretaries of state representing all the great powers are cooling their heels at a small border outpost waiting for an audience with the Duchess and her Prime Minister. They huddle around the tiny guard shack playing a board game in which the world is carved up into power blocs. I envision the Republican candidates huddled together following the next primary debate playing BallotCraft to determine who wins. It seems as valid a method of picking the winner as anything I've seen following the last debate.


That's why I'm playing BallotCraft. I can't see how the pundits are any better qualified than you or I.

Why don't you join me.

Let's pick a winner before the pundits try to tell us who to vote for...