Opinion
LET ME PHRASE THAT another way. Should James Holmes be executed or imprisoned for life without the possibility of parole? Or maybe, we should withhold judgment until we are certain that he is legally competent to form the intent needed to commit a crime? What do you think?

Actually, as of the day this is written, no, it is not yet proven that he is the shooter. The "facts" that we have so far consist of the following: (1) Many people were killed and wounded in a theater in Aurora, Colorado, by a gunman dressed in body armor and a gas mask; (2) The gunman exited the theater before emergency responders arrived; (3) Police found James Holmes sitting near the theater exit wearing body armor and weapons were nearby; (4) James Holmes' apartment was booby trapped with explosives that would have been detonated automatically when the front door was opened.

Now, consider what we don't know: (1) Has anyone positively identified James Holmes as the shooter? Possibly, someone has identified him, but it's unlikely inasmuch as the perpetrator would be very difficult to identify in a lineup of persons of similar stature dressed in body armor and wearing gas masks. (2) Were the weapons found near him the ones used to kill and wound the victims? I'm sure ballistic tests have been performed on the weapons to determine if they were the ones used in the attack, however, we haven't heard the results of those tests, nor have we heard that there is any evidence that James Holmes fired them.

Other interesting questions come to mind: (1) Where did James Holmes, an unemployed post graduate student dropout, obtain an estimated $20,000 needed to purchase the arms, ammunition, and armor. (2) Where did James Holmes learn to build explosives and rig a booby trap. I've been trained in those skills and I can assure you that it is not simple. Just because a person is well-educated in one area of knowledge is not proof of skills in other areas. Yes, I know that anyone can find this information on the Internet, can't they? Have you looked?

I'm sure that his defense team will wait for the evidence to be collected, and then insure that the state answers these questions adequately. They might even offer an alternate narrative of events that would fit the evidence already in hand, an alternate to create doubt in the minds of Holmes' jurors. What if, for example, someone else "did the deed" and left Holmes at the scene, incapacitated by drugs. His appearance in court the other day could be construed as evidence of a drug hangover.

Obviously, my speculations have no more merit than the ABC newscaster who "hinted" that Holmes was a member of the Tea Party. (You know what that means, don't you? – Wink, wink, nod, nod.) Of course, he wasn't "jumping the gun" (forgive the pun) anymore than those who are already rushing to judgment to blame the 2nd Amendment.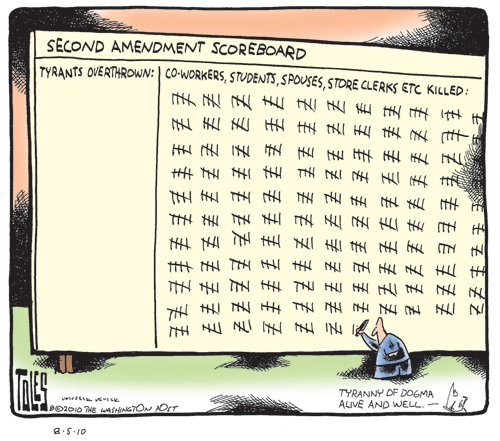 Why is it that every criminal act in America is an excuse for persons and organizations to toss their ideology into the firestorm of hysteria that is generated by heinous acts such as the shootings in Aurora. The "usual suspects" quickly gather for "photo ops" with the victims. Attorneys begin whispering the siren song of big-money lawsuits in the ears of victims and their families. Politicians are stoking up their anti-gun campaigns knowing full well that opponents will take principled stands in support of the Constitution – stands that may cost them votes in the crucial elections coming in just a few months. All of it is driven by hysteria – unthinking actions taken in response to fear-inducing events.

I suggest that everyone take a deep breath, mourn the victims, and remember the words of an earlier and wiser President.

"We must reject the idea that every time a law's broken, society is guilty rather than the lawbreaker. It is time to restore the American precept that each individual is accountable for his own actions."

- President Ronald Reagan


Meanwhile, let's recognize that those who are rushing to Colorado to stand by the victims may be more interested in personal aggrandizement and fortune, than in the pain and suffering that attracted them to the scene of the crime.