Election 2014
The following is re-posted from the Online Townhall Meeting hosted by Greg Raths, conservative Republican candidate to represent California's 45th Congressional District.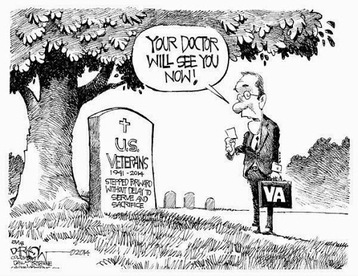 What will American healthcare of the future look like under Obamacare? Take a look at the healthcare provided to America's veterans. Sarah Palin was eviscerated for suggesting that there would be death panels and yet, we have since learned that the Patient Protection and Affordable Care Act (commonly referred to as Obamacare) does, in fact, provide for a panel of unelected bureaucrats who will make life and death decisions as to who is worth saving and who isn't (on a purely economic basis of course). Now, we discover that veterans would be lucky to have even that much consideration. Instead, they are relegated to secret waiting lists where they will be left to die without any right of appeal. Even criminals are treated better than that.

---
Visit Greg Raths for Congress to learn more and support this candidate, a retired Colonel, USMC, combat fighter pilot, corporate executive, and community leader.