GOOGLE ANALYTICS PROVIDES a different point of view of your website/weblog traffic to help you create a better experience for your visitors and, thus, obtain a better return on your investment of time and money. It is not a mere replica of the same information that you get from your webserver logs. Those record activity at the computer that hosts your website/weblog. Google Analytics records activity as it occurs at the client workstations used by the people who visit your website/weblog.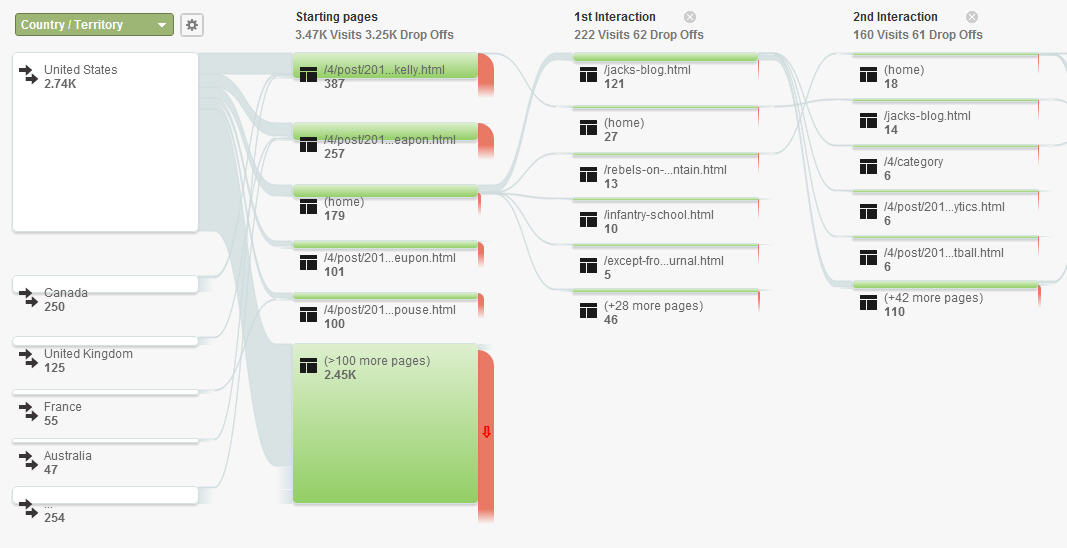 Google Analytics report of Visitors Flow showing the pages where visitors from various nations enter the website & progress to other pages (click to enlarge)
Did you catch that difference? It's important. Server logs record activity on your website at the computer that hosts your website. Every request for one of your webpages, received at the hosting computer, is recorded. Google Analytics collects information sent by a computer workstation when it receives one of your webpages and renders it on the screen in the user's web browser.

There's another important difference. Web servers log every request as they are received. Google Analytics records only a sample of the information sent by client computers when they receive your webpages. I know. This one confused me at first, too. I wondered why the total number of visits reported by Google Analytics was only about ten percent of those reported on my server logs. I began to suspect that my hosting service was reporting inflated numbers. They weren't.

I suppose that the information that I've provided thus far begs a question: Do you need both? Well, yes. The server logs provide the raw data that you need to examine your website/weblog traffic in detail. Google Analytics provide you with information that the server couldn't possibly know. For example, how long did your webpage remain displayed on your visitor's screen. In other words, did they read it thoroughly or simply glance at it and move on to someone else's webpage. The server couldn't possibly provide this information. Once a webpage is returned in response to a user's request, the server loses track of it. Only the client computer can tell you and, since Google Analytics gets its information from the client computer, it provides this information.

There's more than one level of service with Google Analytics: The kind you pay for and the kind that's free. I like free. All you have to do is register so that they can assign a unique identification code for your website/weblog. Remember, thousands, possibly millions, of web clients will be sending data to the Google Analytics computers almost simultaneously every day. They need a method of sorting the data for your webpages from all of the rest.

You may need some help setting up Google Analytics. When you register you will be provided with a bit of computer code that must be embedded into every webpage on your site. This is the code that sends information to the Google Analytics computers. Fortunately for me, I have many years of experience writing code for websites, and architecting computer network systems and applications. Even more fortunately, my site is built using a simple drop-and-drag editor. It includes an Index page that is appended to the head of every webpage in my website/weblog. All I had to do was copy and paste the Google Analytics code into that page and I was done. I couldn't even begin to guess how your website is structured. (And, no, don't contact me for help. I retired from that business a couple of years ago and have conveniently forgotten everything I know.) However, you may have a child in the house who could help you.

Next week we'll talk about the data and reports that Google Analytics provides as well as the informational services available to help you understand them.