Blogging
I don't listen to radio as often as I once did before I retired and stopped commuting between clients. I don't miss the commuting, but sometimes I do miss listening to talk radio. Thus, it was a rare opportunity just yesterday when I drove to the store and happened to hear a caller lamenting about the diversity of nations and religions in the world. He opined that life would be far simpler and safer if only we all could agree to pledge allegiance to one nation and pray to one god. When the host pressed the caller to name one of each, he demurred. It seemed that he cared more for peace and quiet than in proselytizing for his religion or his nation.

"When two people agree on everything, one of them isn't necessary"
Anonymous
I once advocated the very same thing, but that was a long time ago when I was a teen high school student. I may have gone further than the aforementioned caller. I proposed a universal law that no two persons of the same race, religion, or national origin could marry. I put my words to paper and submitted them in satisfaction of a tenth grade history assignment. Yes, I was both a sophomore and sophomoric.

My teacher seemed amused.

He had me read my paper in class.

Girls swooned.

Boys laughed, except for those who felt that I had damaged their girlfriends. They made threats.

Parents objected.

I had been born and raised in the south and my proposal amounted to universal mongrelization of the race, a touchy subject in those parts in that time.

I believe that the teacher had been reprimanded, but his career salvaged by tenure.

I've grown a lot since then. I no longer share the caller's pursuit of peace and quiet at any price nor his fear of diversity. Indeed, I've come to believe that humankind is better for the richness of its diverse tapestry. I no longer tolerate differences, but rather celebrate them.

Diversity encourages the evolution of new ideas.

People and ideas stagnate when their is a lack of diversity.

It appears to me that cloning ideas is no more advisable than cloning living organisms. I've come to accept the words of the man who presided in the White House during the better part of my years in school.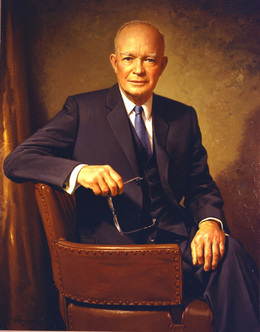 "Here in America we are descended in blood and in spirit from revolutionists and rebels – men and women who dare to dissent from accepted doctrine. As their heirs, may we never confuse honest dissent with disloyal subversion."

Dwight David Eisenhower, 34th President of the United States

There's a lot of diversity in thought these days. The American Revolution has detoured down some paths that seemingly lead to the abyss of ruin.

The world's most successful economy is faltering.

Racial relations, once improving, are now deteriorating.

The shining light on the hill that once served as a beacon for all liberty loving peoples is guttering.

Those who have blazed this trail insist that sanctuary is just around the next bend. Their opponents argue that the next bend only hides ultimate ruin and insist that we turn back.

Debate has been replaced with entrenched positions and anyone with the temerity to suggest an alternate path finds themselves sitting on the fence between two camps where they serve as targets for everyone's wrath.

What is the solution? That is a tale for another day...