Cuba
Father forgive me for I have sinned.

How long has it been since your last confession.

A pause.

A shrug.


How have you sinned, my son?

I've murdered men.

Men?

Yes, many.

How many?

Another pause.

Another shrug.

And?

I've tortured many more.

Why?

They displeased me.

How?

They disagreed.

Do you wish to confess another?

I've sent others to murder and torture on my behalf.

Who?

Ernesto.

Ernesto?

Che.

Ummm. He must confess his own sins.

He didn't.

No?

A laugh.

It's funny?

Yes. Che never believed that he'd sinned.

No?

That's why I killed him.

You murdered Che?

Not directly. I didn't pull the trigger.

What did you do?

I served him up to the American CIA.

Why?

A pause.

He's a great martyr, but he's not the kind of man you wanted to keep around.

Why?

When the revolution ended, Cuba needed politicians and politics is the art of compromise, yes?

Yes.

There was no compromise in Che.

---------------------------

A rumor was launched in Havana early in 2012: "The Pope is coming and Castro may seek absolution." It quickly spread to Miami and then around the world. Even Fidel Castro's estranged daughter fueled the rumor speculating that he might inasmuch as he was raised and educated by the Jesuits.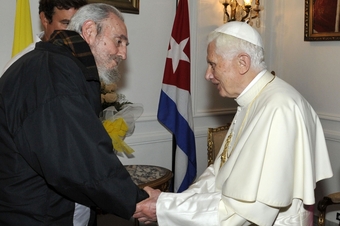 The rumor inspired me to write a short story prior to the Pope's arrival in Cuba in May of that year. I had recently completed my first novel, Rebels on the Mountain, and was flush with research about Cuba and Castro. In my story, I sat Castro in a confessional and speculated on the conversation that might occur between him and a priest. I honestly didn't think that the Pope himself would receive Castro's confession. No one expected that Castro would be a true penitent and the Pope needed plausible deniability if absolution was to be granted without penitence.

As I wrote my story it occurred to me that other powers in Cuba might not approve of Castro rejoining the Mother Church. They might fear that the whole of the Cuban population would follow him and they would lose control. Who are these dark powers? The Cuban government, of course, specifically the bureaucracy.

When Castro declared himself a communist and joined ranks with the Soviets, he established a communist-style bureaucracy to manage the island nation. He had to. How else can a dominant central government micromanage every aspect of life from the price of a tube of toothpaste to the administration of the military? They need bureaucrats. Ultimately, power transferred from the aging tyrant to a myriad of clerks and petty minions who populated the warrens of government. And, as President Reagan famously observed:

"Unless bureaucracy is constantly resisted, it breaks down representative government and overwhelms democracy."

...or monarch or plutocracy or oligarchy or whatever.

Sadly, I wasn't prescient. Not even Castro's shadow crossed the threshold of a confessional and the Pontiff returned to Rome with little more than a handshake and (one must suppose) a box of cigars.

Now, it seems, President Obama is absolving Castro without the benefit of confession. He is turning a blind eye to the murder and mayhem that Fidel unleashed on the Cuban people through his agent, the sociopathic Che Guevara. He is ignoring the human rights violations that occur daily in Cuba's prisons. He is turning a deaf ear to the complaints of the refugees who wait in Miami for a chance to reclaim their homes and lives in Cuba. He is feigning ignorance of the incalculable claims of Americans on the Cuban dictator. Not even Governor Christie's pleas on behalf of a New Jersey State Patrol Officer's family whose murder now resides as a refugee in Havana can turn Obama's head. All this and the President will absolve Castro without so much as a single "Hail Mary". Obama has no need of plausible deniabililty. He is surrounded by minions who will gladly fall on their swords for him.

The question now is whether or not We the People will absolve him.