WE WERE TREATED more like real soldiers in Advanced Infantry Training than we were in Basic Combat Training. There wasn't any free time in Basic. We were being trained almost every minute of every day. In AIT, we had some time to ourselves, to relax, go to a movie, and visit a craft shop.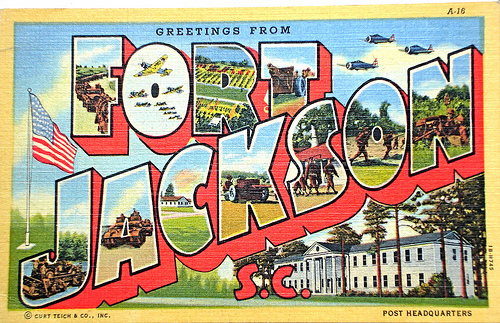 The craft shop systems operated by Army Special Services (never to be confused with Special Forces) is one of the best kept secrets in the Army. I was in charge of Special Services for a time at Tripler Army Medical Center in Hawaii after I completed my tour of duty in Vietnam. We had woodworking equipment, a color and black & white photo lab, golf driving range, tennis courts, and more. At Fort Jackson I began throwing clay.

It was at the potter's wheel that I had time to reflect on the decision I had made to volunteer for the infantry and the possible outcome. The feel of the clay spinning in my hands often lulled me into a fugue state wherein I could think clearly.
I never actually made anything there. I simply threw a lump of clay on the wheel, centered it, and drew a cylinder. I might give it a crude shape like a cup or a bowl. But, at the end of the evening, I scraped the clay off the potter's wheel and threw it back into the bin. It is the most relaxing art media in which I have ever worked. No matter what tensions I took back to the barracks from a day of training, I left them at the craft shop.
It wasn't until I ran the Post Theater at Tripler that I came to understand the system. Army Special Services took just about every film that came out of Hollywood including, the good, the bad, and the indifferent. Only a few more than 200 were produced each year and we kept each one only a few days. Every film began with the playing of the national anthem while patriotic images were projected on the screen. Every member of the audience, including military dependents, lept to their feet and remain standing at attention until given the order to "Take – seats!"
For those of you who have never
served
, let me explain. Every order has two parts: Preparation and Execution. You wouldn't hear, "Take seats," spoken without a pause. The command is given "Take" to prepare you to act in unison, and "Seats" to cue everyone to sit down. When you watch television or a movie, listen to see if they do it correctly. "Atten – tion!" "Stand at – ease!" "Forward – march!"
My wife can tell you that I am almost always annoyed by the portrayal of the military on television and in the movies. Few make the effort to get it right. Sloppy hand salutes are particularly grating. The salute is a sign of respect between soldiers and those who do it sloppily are showing disrespect.
I am also unhappy when the military are used for comic relief or as the villains. They rush in to destroy aliens without waiting to discover their intentions. They exacerbate any catastrophe by responding precipitously. You'll occasionally find people who hold the military in little regard commenting in this blog. They hold the military in low regard.
Fortunately, the military holds all civilians in the same high regard. They will defend your rights and liberties regardless of your political or ideological beliefs. The military doesn't start wars, never have. They end them. And, President Reagan had it correct when he said that the best defense is a strong one. Nothing will deter the bullies of the world like the prospect that they will get their noses bloodied if they mess with you. Pacifism has never deterred war. It has only invited it. This is not opinion. It is historically demonstrable fact.
That being said, we didn't serve because we loved war. No one hates war more than soldiers. They know that they will be the first to go in harm's way.
Read Jack's novel, Rebels on the Mountain, the tale of Nick Andrews, an Army spy, who has Fidel Castro in his sights but no orders to pull the trigger. The mafia as well as the American business community in Cuba will pay a fortune for Castro's assassination, but Nick has his career to consider, his friends to protect, and a romance to sort out in the chaos of a revolution.