Army Life
THERE IS NO branch of the Armed Services that has a broader mission than the U.S. Army. The range of skills known as Military Occupational Specialties (MOS) in the Army probably equals that of all of the other branches combined. Thus, it is not surprising to learn than the Army employes as diverse a sampling of humanity as you will find anywhere.
The recruitment process, even during the time of the draft, included a testing process to qualify men and women for service in the Army, and to place them in an occupation for which they are either qualified or have the potential to learn. Now, I know that there have been many epic errors in the system. For example, while in school at Fort Benjamin Harrison, Indiana, before deploying to Vietnam, I heard of a trainee in the class for postal clerks who had been a test pilot for Boeing. When asked how he ended up there he was reputed to have said that he was told by friends that he should never volunteer for anything and to keep his mouth shut at all times. Thus, it is fair to say that the system didn't fail him – it had, insofar as possible, identify that he was brighter than the average draftee and should be placed in a role that required more intelligence than that required for a grunt. However, he had failed to speak up for himself and almost wasted his mandatory two-year enlistment. Fortunately, his value was recognized, and he was awarded an immediate Honorable Discharge and returned to his civilian occupation where he most likely contributed more to the defense effort.
Part of the Army battery of tests appraised basic intelligence. Even a rifleman needs some native ability to maintain his weapon, follow orders, and engage in battle without harming his buddies. Surprisingly, I met at least two enlisted men during my time in service who seemed to have a lower IQ than one might think that the Army considered as minimal, however, they provided valuable service. I mentioned one in an earlier posting –
Letters of Condolence
– about my assignment as the Casualty Reporting Officer for the 9th Infantry Division in Vietnam.

There is another enlisted man that I met while serving as the Operations Officer for the Strategic Communications Center for Headquarters, United States Army, Pacific, who I would like to weave into my tale of Korea – Behind Every Mountain. He held the rank of Specialist E5 – equivalent of a three-stripe sergeant – with twenty-seven years of service. Inasmuch as I met him in 1967, it is safe to assume that he was a soldier during time time of the Korean War as well as World War II. However, I do not have any recollection of his service during those periods and, fortunately, that is not important to my tale here.

I can't remember his name, though I would easily recognize him if I passed him on the street today. He was not handsome nor remarkably un-handsome. I don't believe he was ever married. He lived in the barracks with much younger enlisted men. We never engaged in a direct conversation beyond a brief salutation in passing or a brief exchange for me to inquire after how he was doing, to which he may have lied as is usual in such things – who really asks such a thing and wants to know beyond "fine, sir."

He was a minor cog in my machine. I was commanding/managing more than one hundred-fifty men and women at the time, about half civilian employees and half military. Their jobs ranged from highly technical communications equipment operation and maintenance, to clerical staff, and the commissioned and non-commissioned officers, and civilian supervisors who helped me oversee them in a 24/7 operation. This man pitched messages into bins for distribution to the headquarters offices that we supported.

He did his job well. The tedious nature of his work might distract a more intelligent person, and cause them to make mistakes. His supervisors assured me that he never did. Granted, a change in personnel might throw him off his game for a day or two, but once learned, he never forgot.

The reason this man sticks in my memory is the remarkable story that I learned about him from my first sergeant. We had stopped in the hallway outside the room where this man was at work and paused a moment to watch him. I caught my sergeant smiling and asked him why.

The man in question had just returned from leave and my sergeant began by explaining that he had a very lucrative vacation on a cruise ship. Apparently, it was just one of many such trips he took each year – we received 30 days vacation each year in those days. He played cribbage with wealthy passengers and beat them regularly. I learned to play cribbage in Vietnam and know that the difference between winning and losing is very subtle. It is a game of intuition as well as intelligence and my man seemed to have a gift for it. Using it, he had accumulated a substantial savings account and could always be counted on by the younger enlisted men, for a loan. No one dared to stiff him. The other men living in the barracks took pains to make sure that he was never cheated.

The tour of duty in Hawaii at that time was three-years. This E5 came to me with a request for reassignment to Korea when his tour was about to end and I was glad to endorse it. However, Army regulations required each person to return to a duty station somewhere in the United States periodically and this man hadn't for many years. Thus, his request was denied. I apologized that I couldn't do more for him, but he assured me that I needn't worry. He simply asked for a short leave and disappeared.

He returned a week later wearing the insignia of a master sergeant E7 – an impossible jump in rank – and orders for Korea. My first sergeant explained that this man had visited the Pentagon during his leave and looked up some old "friends" there. Surprised that he was still just an E5, they arranged for his "non-standard" promotion and his assignment to Korea. They were some powerful "friends."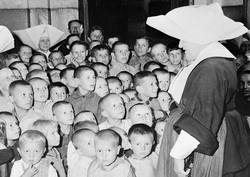 As he left the tunnel where our facility was housed for the last time, my sergeant explained. This man had lived off-base at an orphanage run by Catholic nuns while stationed in Korea sometime in the 1950s. He returned on every other assignment. He had worked as a handyman there while off duty. Later, during a tour of duty in Panama, he had won the national lottery there and placed his winnings in a trust to support the orphanage. It had become his home. After leaving my command, it was his dream to return there to retire and live out his days taking care of the place.

I pray that his dream came true.