Cuba
ANTHONY BOURDAIN VISITED Cuba in the most recent episode of his Travel Channel Series No Reservations and was treated to a grand tour of Havana by the Seguridad de Estado (SDE) – Cuba's Secret Police.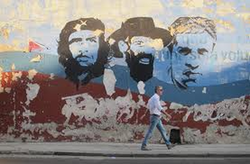 Inasmuch as Americans have little experience with secret police I will pause here to offer a brief explanation. Ordinary police forces serve and protect citizens by investigating crimes and apprehending criminals. Secret police serve and protect political regimes and states. Their name derives from the fact that they operate in secrecy so that they may observe otherwise law-abiding citizens who may threaten the extant political power in thought or in word without actually breaking any codified law. Thus, the main difference between them lies in the fact that ordinary policemen are reactive to crime, while secret policemen are proactive in apprehending before they can imperil the state.
So, how did Bourdain get involved with a secret police force? The answer to that question is wrapped up in the fact that eighty percent of the income derived from tourism in Cuba is used to finance the SDE, and the major purpose of Bourdain's show is to promote tourism. Unfortunately, prior to Castro's rise to power, most of the tourist industry in Cuba was owned and operated by mafioso. Since the SDE is the closest thing they have to a mafia, it was only logical that they should take over. Thus, the SDE was very interested in making sure that he met plenty of smiling Cuban faces to photograph, visited markets brimming with fresh produce, and ate at their best restaurants. Interestingly, the only quality restaurant that he visited featured a Basque chef from Spain serving non-Cuban cuisine.
Almost every episode of
No Reservations
depends on local contacts to steer the production team to places that typify the local cuisine. Most often these guides are chefs themselves or food critics or restaurant owners. However, in this episode, there was no attempt to pass off the Cuban guides as anyone connected to food. The hungry look in their eyes was more wolfish than epicurean.
Bourdain's SDE handlers led him to a marketplace where he praised the people for the quantity and quality of locally grown produce. We could see for ourselves the source of this bounty as Bourdain strolled through city parks amid rows of corn growing in place of lawns. He never mentioned that Castro had personally banned all such urban gardens until he realized that a starving populace might nurture an anti-revolutionary movement.
Much of Bourdain's non-food related travelogue related to Havana. He lauded Castro for not defiling the timeless beauty of the city by erecting the same kind of glass and steel monoliths that characterize so many other cities that previously fell under the Soviet sphere of influence. This observation would be laugh-out-loud funny if it weren't so tragically misguided. Castro had no choice. He had no economy to support any sort of development or re-development. What little free capital he could scrape together was spent on military adventures in Africa and Latin America. And, yes, the timeless beauty of the city can be seen if you use a lot of imagination and ignore gaping holes, cracking streets and sidewalks, and peeling paint on every wall.
Inasmuch as I was blessed with a remarkable ability to filter out political agendas like so much noisome static, I have been a fan of Bourdain's series for several seasons. I recognize that he is a undereducated though extremely literate chef. Thus, I accept his commentary on food while ignoring his political statements with ease in much the same manner that I can still watch Jane Fonda wiggle and writhe her obvious assets in
Barbarella
. I'm not fantasizing doing anything with her brain. Oh, and I'm not fantasizing doing anything with Anthony.
Be sure to read Jack's novel, Rebels on the Mountain, available at all major eBook retailers. Click here for more information