Terrorism
THERE ARE MOMENTS frozen in our memory with laser-like clarity. Some are personal moments. Moments of the birth and death of loved ones. First kisses. Last touches. Then, there are the ones we share. The assassination of John F. Kennedy. Man's first step on the moon. The destruction of the Challenger. The 9/11 attack on America. The ones we share become history.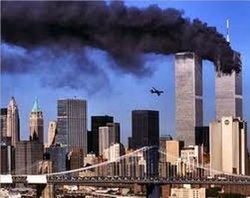 I was driving to work on the I-405 San Diego Freeway in South Los Angeles when word of the first plane striking the World Trade Center came over the radio – KABC Talk Radio. Just like an earthquake, the lack of information didn't stop the talking heads from prattling on about it, speculating. I had reached my desk before word of the second plane striking the other tower came. I didn't need any prompting then. I reached the conclusion that it was probably a terrorist attack without anyone's help.

I was working under contract to Toyota Financial Services at the time. It was the first of what was to become a four-year engagement. TFS was quite possibly the best client I ever had. I was helping them expand their use of their computer network for collaboration – a technology in its infancy at the time. The challenges and the people were so enjoyable that I looked forward to going to work every day there (in the beginning).

The company immediately contacted all employees on the road instructing them to stay where they were or find alternative ground transportation to return home. Many connected in distant cities, rented cars, and carpooled back to Los Angeles. All business travel thereafter was canceled for several weeks to prevent exposing employees to risk.

We watched the horror play out on our television screens. It was the second time in my life that I felt so connected to the world. The first occurred when we landed on the moon. I say "we" purposely. We all felt a connection to that man. We all felt our feet sink into the soft lunar dust as we watched him step off the ladder of the lunar lander. We were all one human kind that time sharing an achievement. We were all of one human kind on 9/11 sharing a tragedy. Well, all of us except those Muslims who cheered in the streets at their victory.

I know it isn't politically correct to say that, but my memory of that event will not allow dishonesty. Muslims cheered. They fired joy shots into the air on the streets in many Middle Eastern cities. Their women made that haunting ululating sound that they use to express celebration. Not all Muslims, just those of the extremist persuasion and many others who were caught up in the excitement of the moment.

A Muslim father lived across the street from us at that time. His son was a member of the Cub Scout den that I led for my son and his friends. I immediately went to him and offered my protection. I believed that some Americans might disturb Muslims in reprisal and I would not stand idly by if this happened. He thanked me and we shook hands, but my help was never needed, thank God.

In the months and years that followed, I cheered at every victory over the terrorists. I rankled at suggestions that they were criminals – criminals in the United States enjoy many rights and privileges that these monsters did not deserve.

I cheered as we entered Afghanistan in pursuit of them. As a man with more than average interest in historical studies and a solid education in the law and military tactics and strategies, I fully appreciated the dangers there. Although I was a vocal opponent of nation-building, I have remained open to any proof that I might be wrong; that we may yet instill a new sense of community with a more tolerant ideology.

I supported our actions in Iraq. I was never distracted by Weapons of Mass Destruction. We had every legal right under national law to restart hostilities there inasmuch as Saddam had repeatedly violated the armistice agreement that ended open warfare after his invasion of Kuwait. Seeing the success of the Kurds as well as the unrest in other parts of the Middle East – unrest that may close other terrorist sanctuaries – as well as Qaddafi volutarily surrendering his nascent nuclear program in fear of American reprisals after seeing what we did in Iraq, I am heartened.

I didn't need a tenth anniversary celebration to remind me, however, it has given me pause to make these observations. Hopefully, it will remind people of the sense of unity that bound us in the days and weeks immediately following the 9/11 attack. It would be nice to put political rancor aside and feel that again, if only for a moment.