Cuba
FOLLOWING THE FAILURE of three separate governments during the last half of 1934, a transition took place in Cuba. The military, which had been used by the government to suppress the people, became a major political force in its own right. A mere sergeant, Fulgencio Batista led the way.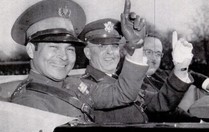 Fulgencio Batista rides with U.S. Army Chief of Staff, Malin Craig, in Armistace Day Parade, Washington, D.C., 1937 (click to enlarge)
Since the barracks revolt which catapulted Batista to the head of the Army, he distanced himself from the President and emerged as the man who could provide Cuba with law and order. The American Ambassador, Sumner Welles, met with Batista and found him to be reasonable. He had none of the stubbornness of the Cuban politicians or the student directorate – a revolutionary association of island youth. Welles informed Batista that the United States had no partiality to any side vying for power in Cuba. "We would welcome any government in Cuba," Welles told Batista, "no matter by what individuals it was composed which fulfilled the requirements made clear in the official declarations of the Secretary of State." Principally, the United States was concerned with law and order to protect American interests on the island to silence the forces of revolution that threatened peace so close to American shores.

Following this encounter, Batista met with student leaders to thrash out an agreement to replace the sitting Cuban President, Ramón Grau. Grau no longer could depend on the military to follow his orders. Talks between the army and the students bogged down and Batista announced his selection of Carlos Mendieta as the person to replace Grau. The students were told to accept the army's choice or be forced to return to the university.

U.S. Ambassador Welles wrote to President Franklin Roosevelt that he expected the transition from Welles to Mendieta to take place immediately. It didn't happen for a month and he was replaced by Jefferson Caffery, another career diplomat. Caffery agreed with Welles' assessment and recommended that the United States grant diplomatic recognition to the Mendieta administration as soon as the change occurred. With the assurance of American backing, the change was made and diplomatic recognition was granted within the week.

At some level, the Cuban public had responded favorably to Grau's reforms. They were unhappy that the Americans granted recognition to Mendieta so quickly after denying it to Grau over a period of several months. It seemed to them that the new president was a puppet of the American government.

Unfortunately, Mendieta had no better luck than Grau in bringing law and order to the island and the question that had been asked repeatedly remained: Can Cuba save herself?