The Storyteller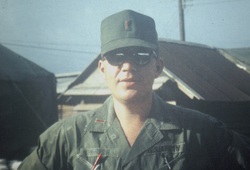 Jack in Vietnam, 1968
I was born in Baltimore in 1943. I have achieved most of my life's goals: A successful marriage and career, fatherhood, and grand-fatherhood (I know that isn't a word, but it should be). Still, there are a few goals remaining, including writing the great American novel. And, there have been failures: A broken marriage, a child estranged, and a business bankruptcy. You can't be a success without a few of those in your past, hopefully not in my future. They are grist for the story mill.
I was raised in Maryland on the shores of the Chesapeake Bay where I began a lifelong love of fishing, swimming, and sailing; avocations that I have practiced in more exotic locales including Hawaii, California, and Mexico. From rowboats to tallships, on deck and aloft, I know the ropes and how to breathe life into salt water tales.
Graduating from Law School at the height of the troop build up in Vietnam, I volunteered for the Army and earned my commission as a second lieutenant at the Infantry Officer Candidate School at Fort Benning, Georgia. I served with the 9th Infantry Division in the Mekong Delta of Vietnam where I learned the thrill and horror of war. During this time I investigated and reported on three individual actions that resulted in awards of the Medal of Honor providing me with deep insight into the character of valor and heroism.
Upon discharge from active duty, my life took an unexpected turn; I began working in advertising and public relations. I worked my way up the ranks from copywriter and creative director to become an advertising manager for a major international corporation, and ultimately, head of my own agency. During this period, I found time to write my first published work,
Dream Pirates
, a novella for young readers with limited literacy and students of English as a second language. I wrote my second published work,
WordPerfect: Creative Applications
, after abandoning the advertising business to become a successful independent consultant in the data processing industry.
As a parent, I became a favorite resource of my children's teachers, visiting their classrooms to recite original stories I created in response to the children's suggestions. I anticipate that my grandchildren's teachers may call on me for encore performances.
Ghost River
and
The Chocolate Dragon
will probably make their way into the pages of a children's book one day, but I have many other tales I wish to tell first.
Throughout my life, I have preferred fact to fiction; real danger has always held greater fascination for me than imagined danger; and real acts of valor have seemed more heroic than fabricated ones. My passion for history began in high school when I began studying the American Civil War. After consuming virtually everything written on the subject, I began haunting the National Archives in Washington as well as any other place where I could get his hands on source material. Thereafter, I studied other periods of American history before branching out into world history. Although a voracious reader of many genres, history and historical fiction have remained my favorites.
James Michener
and
Jeff Shaara
are a two of my favorite authors. Of course, as a sailor who has stood at the top of the mast on tall ships, I also count
Patrick O'Brian
and
Frederick Marryat
among this group. It is no surprise then that my first novel,
Rebels on the Mountain
is a work of historical fiction, telling a story that begins at sea and then follows the rattle of musketry to the revolution in Cuba that I followed from the sidelines of the Cold War.
---